It's difficult not to be drawn into the world of Squarespace with all its appeal. If you've decided on using it as the primary hosting platform for your website, well done!
You cannot have a dull page when using one of their templates.
If you haven't quite decided on which hosting platform you'll be using yet, Squarespace makes it really easy to get hands on creating a website before you decide with their option of a 14-day free trial.
So you get to play around, check out all the templates and get a true feel of whether or not it's the right platform for you, all without putting in your credit card details.
We've created a step by step guide for you which will get you testing out your website in less than 5 minutes!
STEP #1: GETTING STARTED
Click here to be redirected to the homepage. Once you're there, hit the "Get Started" button.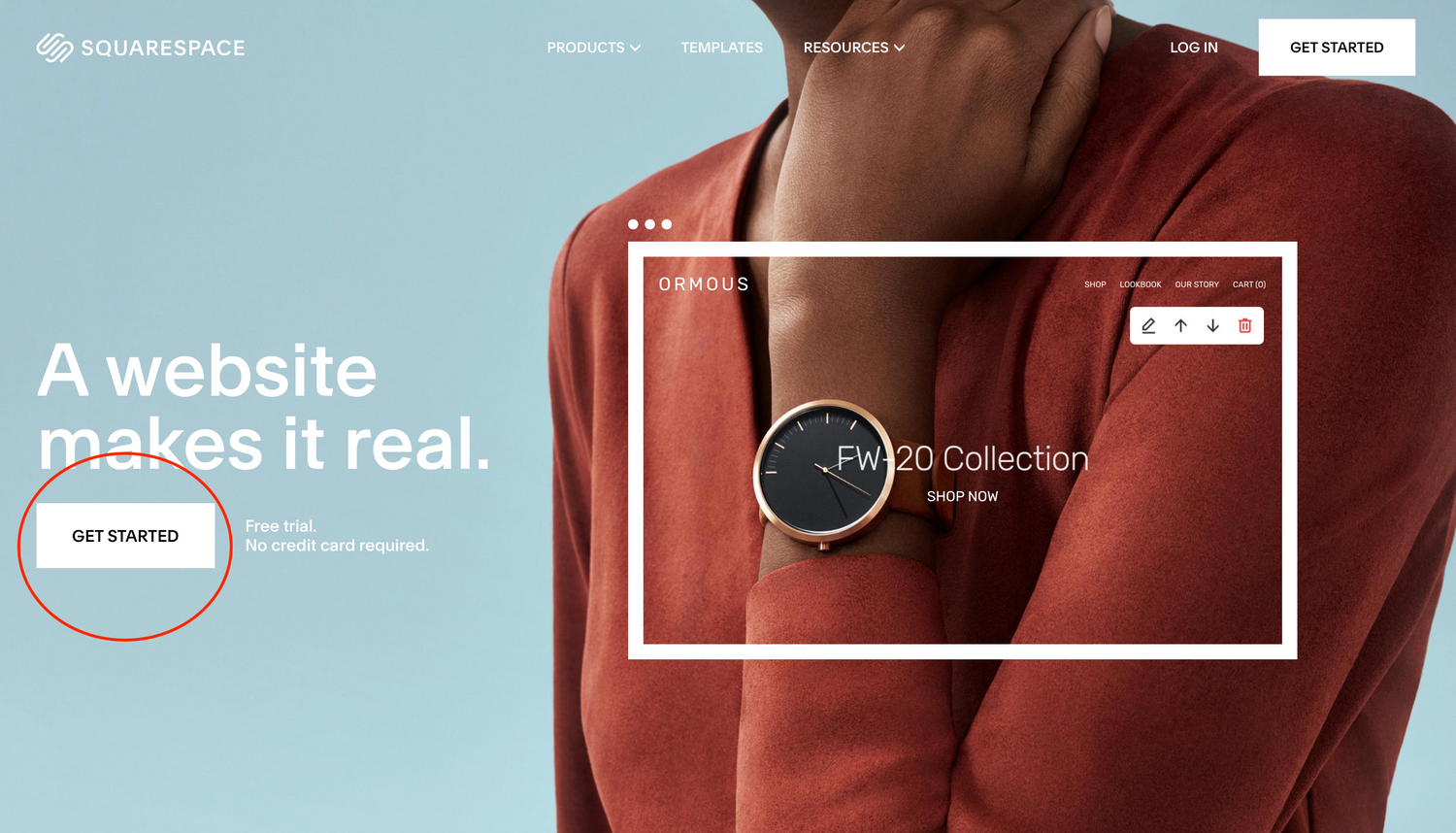 STEP #2: TO ANSWER OR NOT TO ANSWER, THAT IS THE QUESTION
Squarespace has set up a questionnaire to better understand your business and its needs. This will help them gather the best templates for you. If you're completely undecided then just move your cursor over to "I'm just browsing", to skip this section.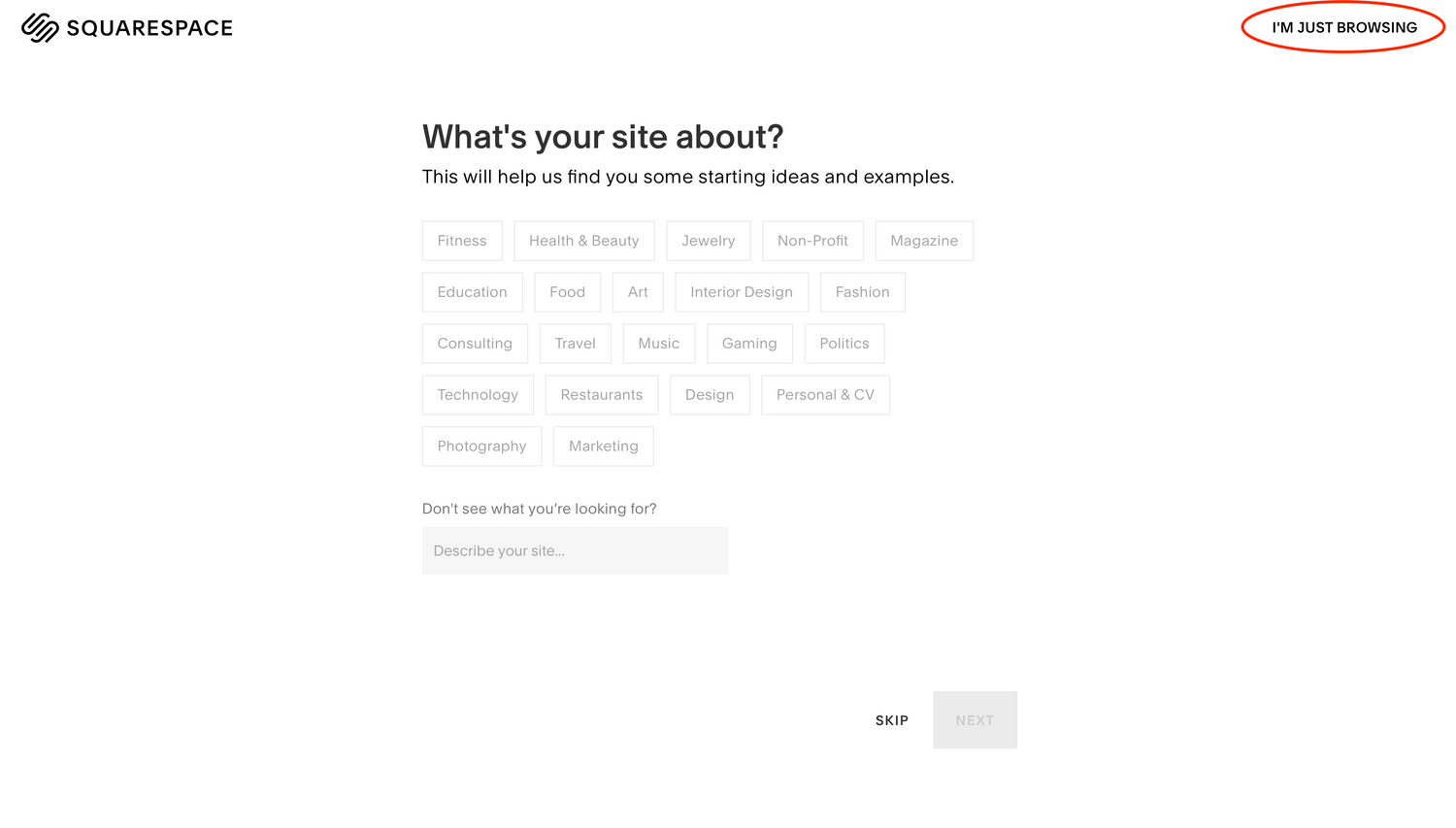 STEP 3: TIME TO GET CREATIVE
This is where the fun really starts. You can see that Squarespace has sectioned off their templates to make it easier for you to sort through the 100+ templates they have on offer.
So are you looking to showcase a stunning graphic design portfolio, or are you wanting to start a blog?
Just head on over to the left panel and click on the heading to reveal the templates.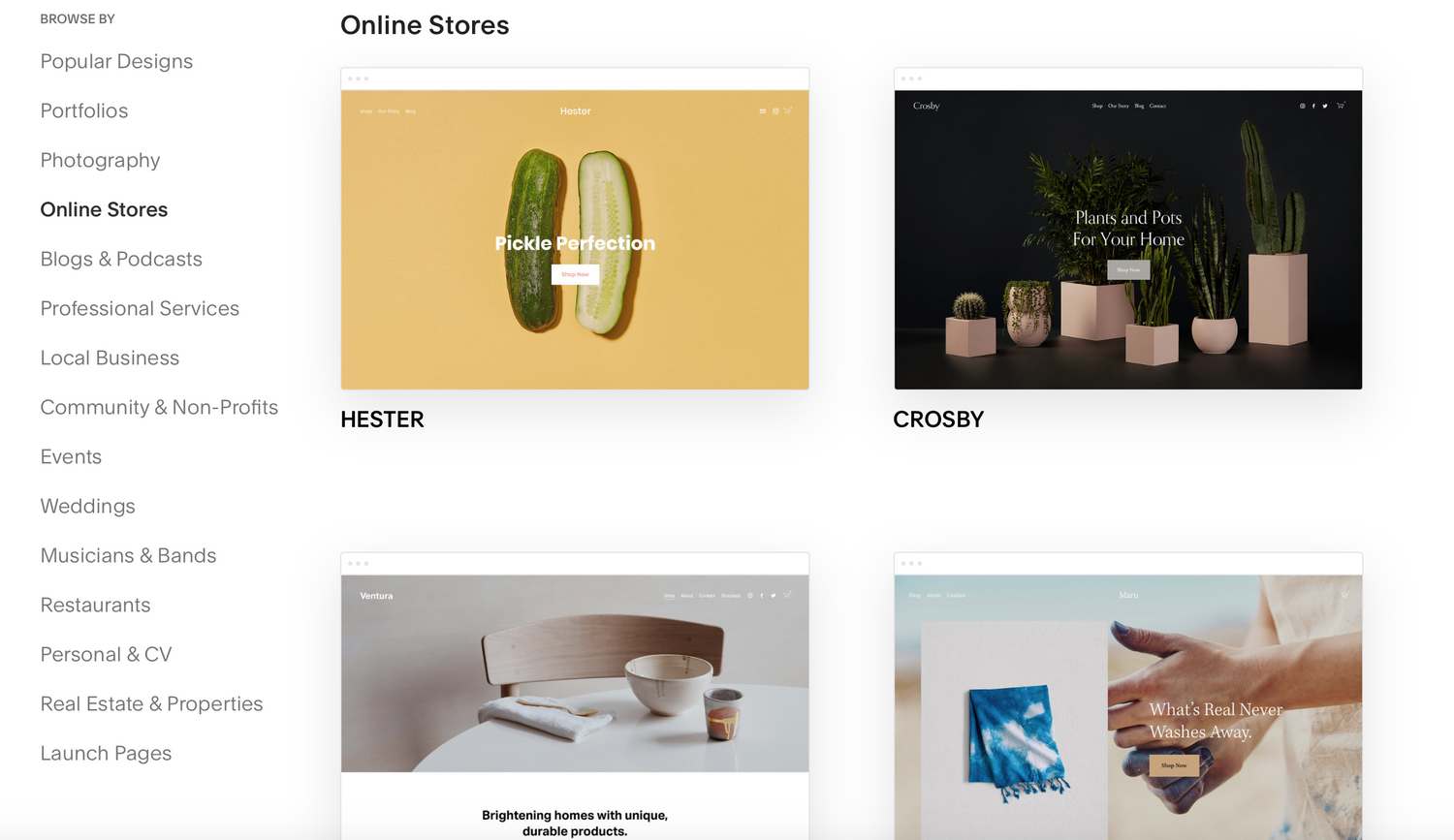 Once you've found one that catches your eye, hover over it to check out the demo.
Don't click "Start with (Name of template)" unless you know that it's the layout you want to use. Clicking this will take you straight through to editing. Instead, click, "Preview (Name of template)".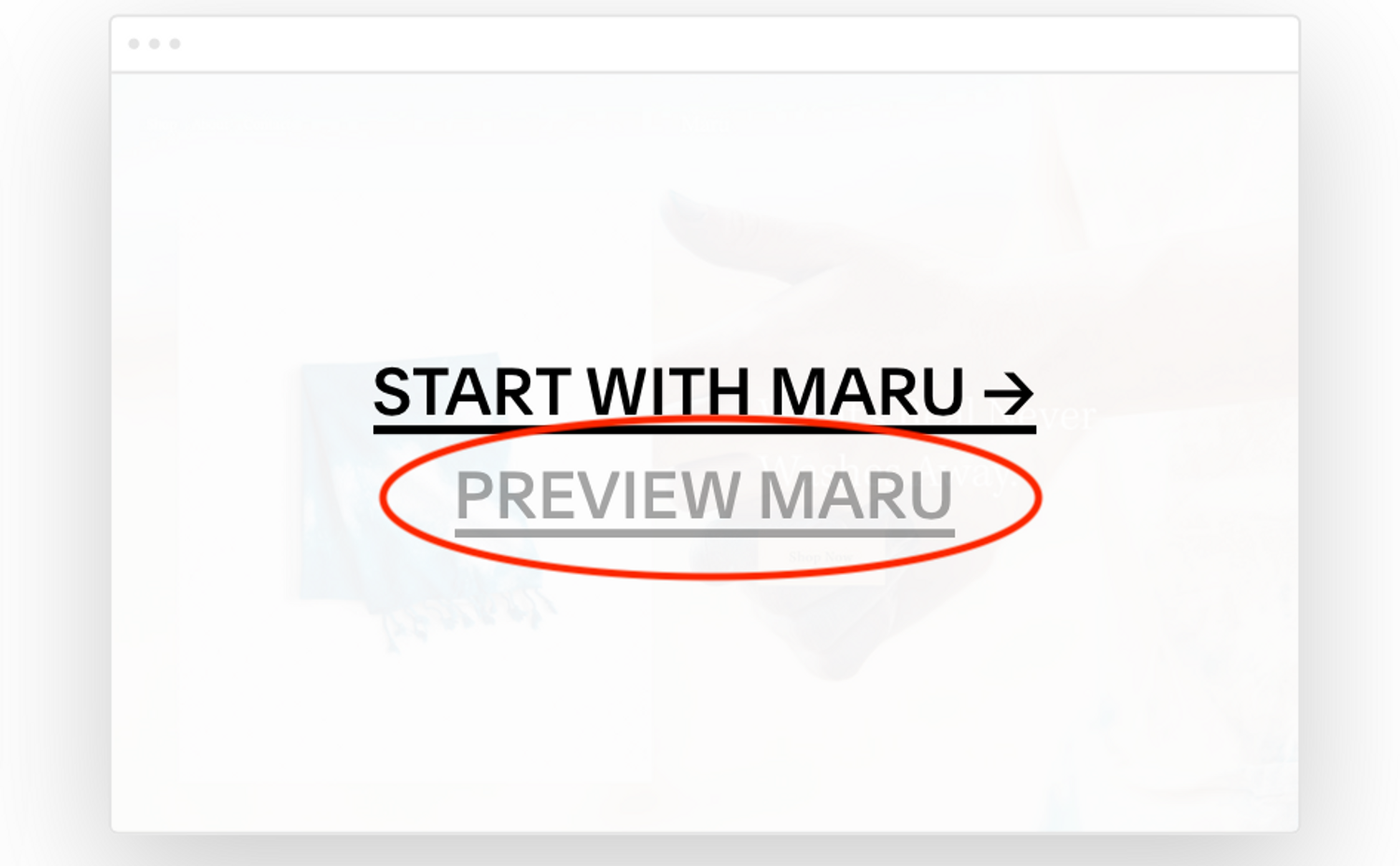 This will take you to a page where you'll be able to preview the theme in three different modes.
Desktop, tablet and phone.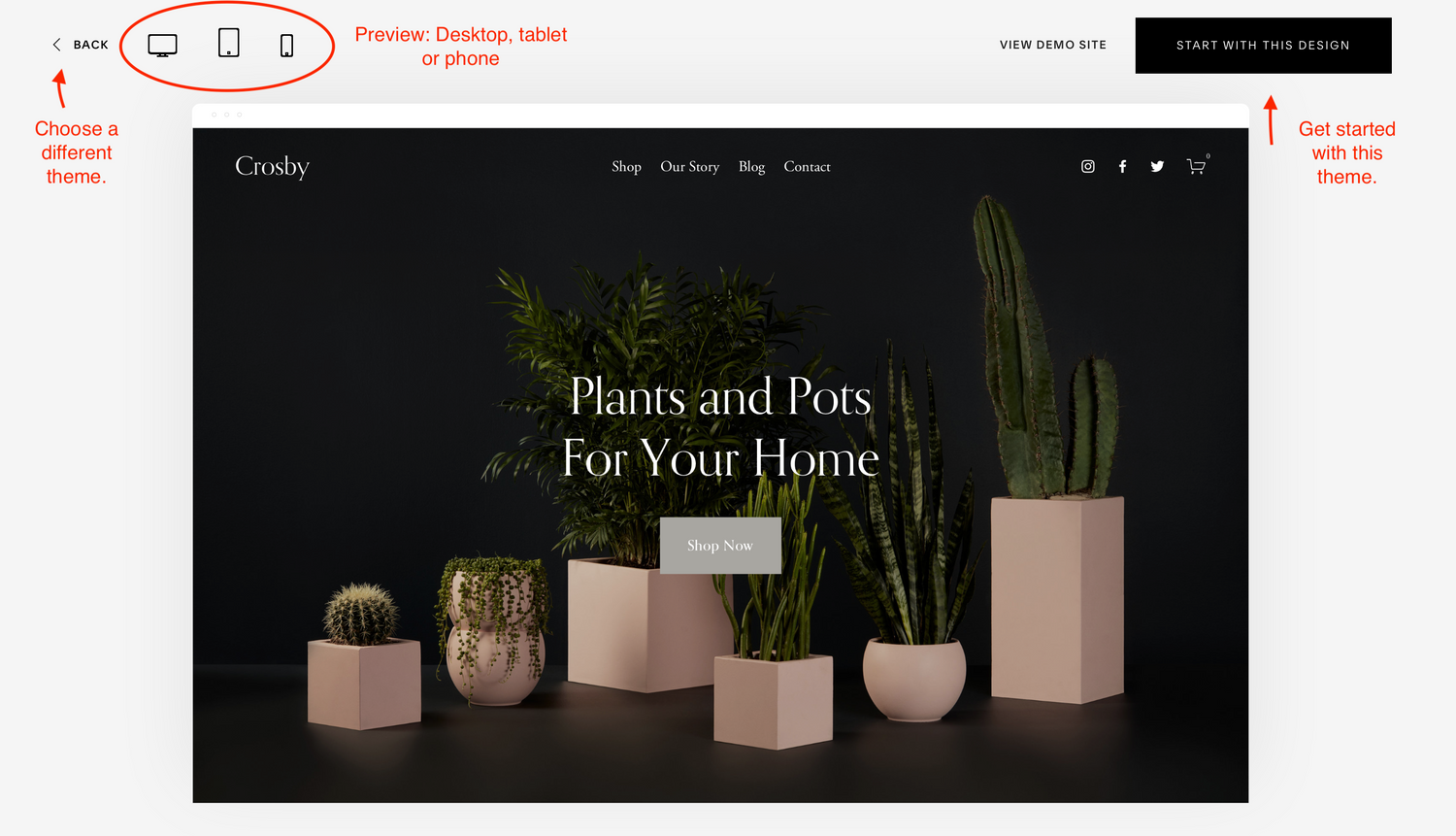 If you're happy with the theme and want to get started with the edition, just click, "Start with this design".
If you want to continue browsing, click "back" and head on over to do the same with the other templates.
By clicking on "Start with this design", it'll prompt you to create an account which will include adding your full name and email address. (Remember they will not ask for any card details until your trail is up).
STEP 4: NEED A HAND?
The drag and drop element of Squarespace makes it relatively simple to move through, but if you get stuck and need a question answered, you'll find the assistant located on the right of your screen.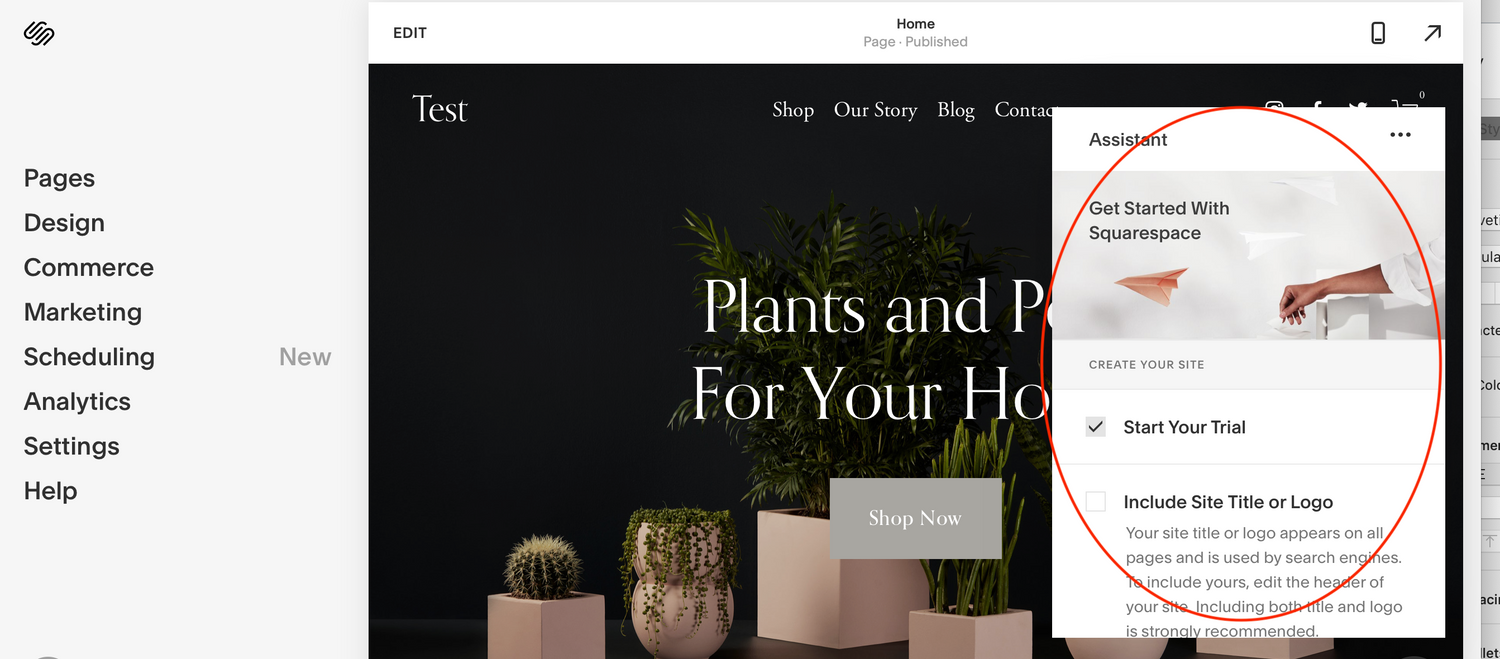 STEP 5: SUBSCRIBE TO UPRADE
Now that you've fallen in love with Squarespace (whether it's automatic or two weeks later), it's time to upgrade to a plan so that you can publish your website.
Depending on your business needs, you'll need to choose a plan that is suitable for you.
There are two options with all four plans.
One is a monthly payment and the other is a yearly payment. There is a $4 - $8 pricing different per month depending on whether you choose to pay monthly or yearly.
By choosing the annual subscription, you'll be saving between $48 - $96.
You'll find that Squarespace is similarly priced to it's competitors:
Please make sure to go through all of the features before choosing your plan. However, if you decide that you either want to upgrade or downgrade your plan a few weeks in you can do so.
With Squarespace, if you've paid for an annual subscription and want to downgrade the plan, you'll get refunded on the amount of months left. Keep in mind that there will be features that you'll end up losing should you downgrade.
All-in-all they make it really simple to do this.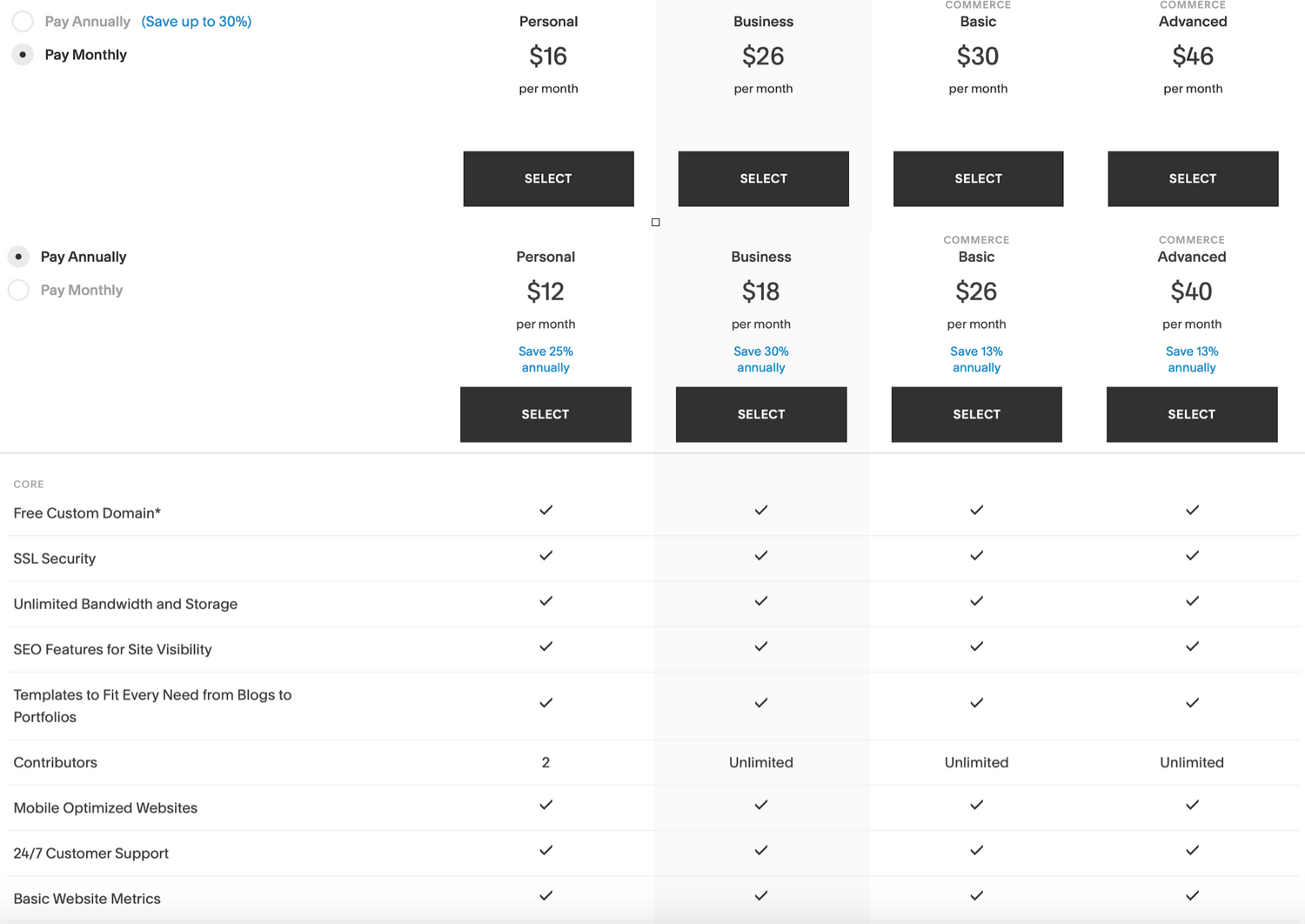 STEP 6: PAYMENT AND DOMAIN
Now that you've selected a plan, you'll input your financial details and once that's gone through you're ready to roll.
With each plan, Squarespace offers a domain name free for up to a year. If you don't yet have a domain name, then that's great because it's included!
If you already own a domain name, then worry not as you can easily transfer it from your current host to Squarespace by clicking here.
It's as simple as that. Are you ready to to test out your Squarespace website?
Alternatively, if you would prefer to use Wordpress, check out our setup guide here