It is possible to start an online business… and before the end of the night!
Many people think that it takes a lot of time, effort, and money to build an online business. And it can.. But if you find the right programme and you know where to look, you could have a profitable business running in just a few hours, and do it for nothing at all.
We've broken down how to start an online business selling T-shirts, and get it running by the end of the day.
Note: For our Behind Closed Doors members, this may look familiar as it's a section in the December 2016 report!
First things first…
Take a look at a website called TeeSpring.
TeeSpring is a programme for starting an online business that will take your very own designs and place them on items such as clothing, mugs, or stickers. As you sell your products, they will print, package, and ship your products directly to your customers for you.
They make it super easy for anyone to create and sell high quality products with no risk. It's totally FREE!
You don't have to pay anything.
Your costs to start this new online business venture = $0
You create your new clothing line then promote your products to customers all over the world. Once you reach a specific number of sales (you determine how many), the crew at TeeSpring will then fulfil all the orders. They will package and ship each product to the address of the
buyer (so you don't have to do anything).
Then you get to take all the profit from selling your shirts.
This can be set up in less than an hour!
Here's how: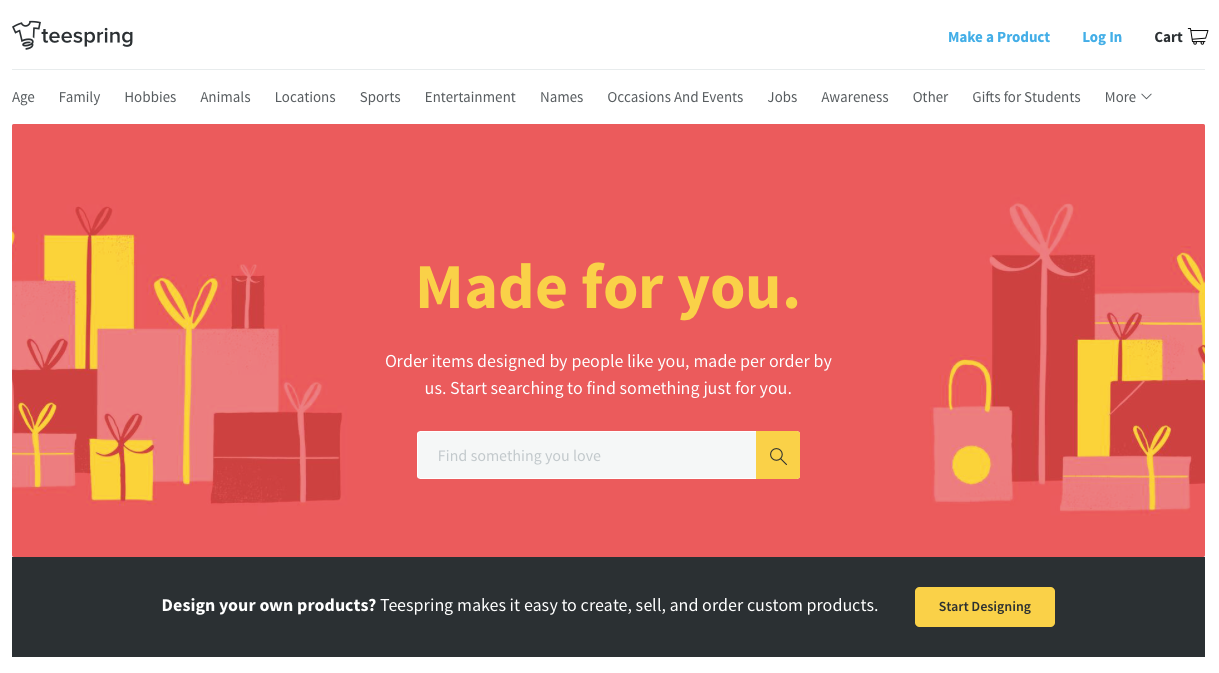 #1: Go to www.teespring.com
#2: Click "Make A Product" on the top right hand corner
#3: Design a tee
You can write anything you wish on your shirt, and choose from many different fonts and colours. You can place pictures wherever you please and they have a bank of different artwork you can use.
* If you are a designer or an artist you can upload your own images in PNG format and they will print it onto the shirt for you.
(Look, I just made this "Poop Emoji" Tee in less than 2 minutes haha!)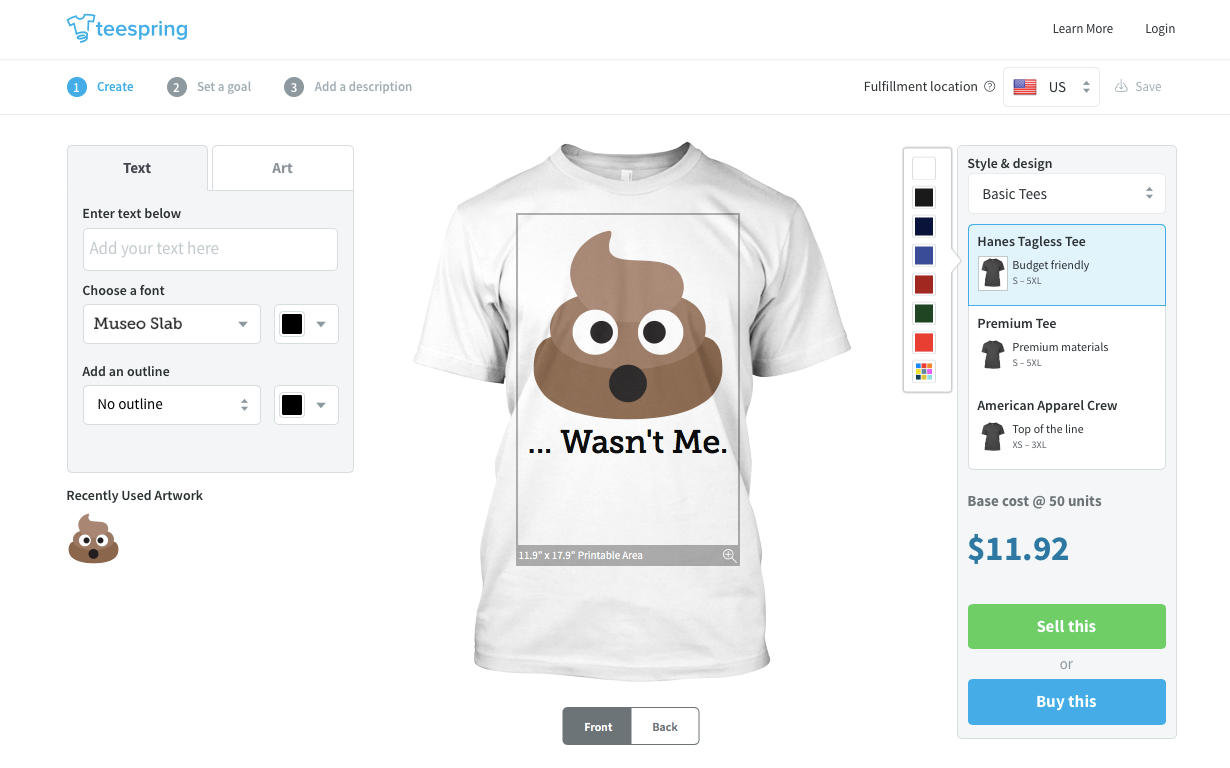 #4: Choose your products, quality, & quantity
This is where you choose what you would like to sell and what quality you are after (obviously you pay more for better quality).
In my example I choose long sleeve tee's using the cheapest shirts on offer, which will cost me $13.67 each if I buy 50 units.
I am happy with this, so I will click "Sell This".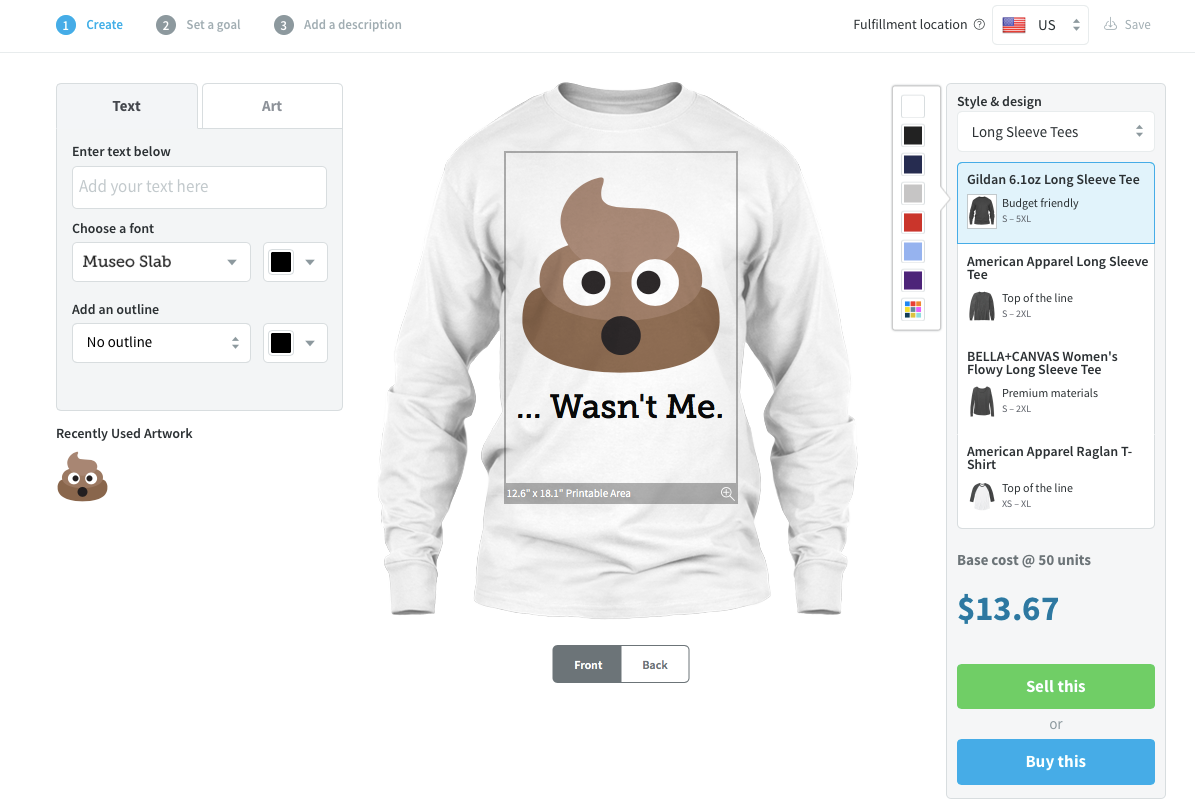 #5: Set your goal & name your price
Now you need to choose how many shirts you think you will sell.
The more shirts you sell, the cheaper the cost will be per shirt. Your shirts will start to get printed once you have reached your quantity target. That way you have $0 of expenses to begin with.
For me, I choose 10 pieces. I'm not sure how many people want to wear a big piece of poo on their chest.
I will sell each shirt for $25.99
Once I sell all 10, I will make at least $104 in profit… Wohoo!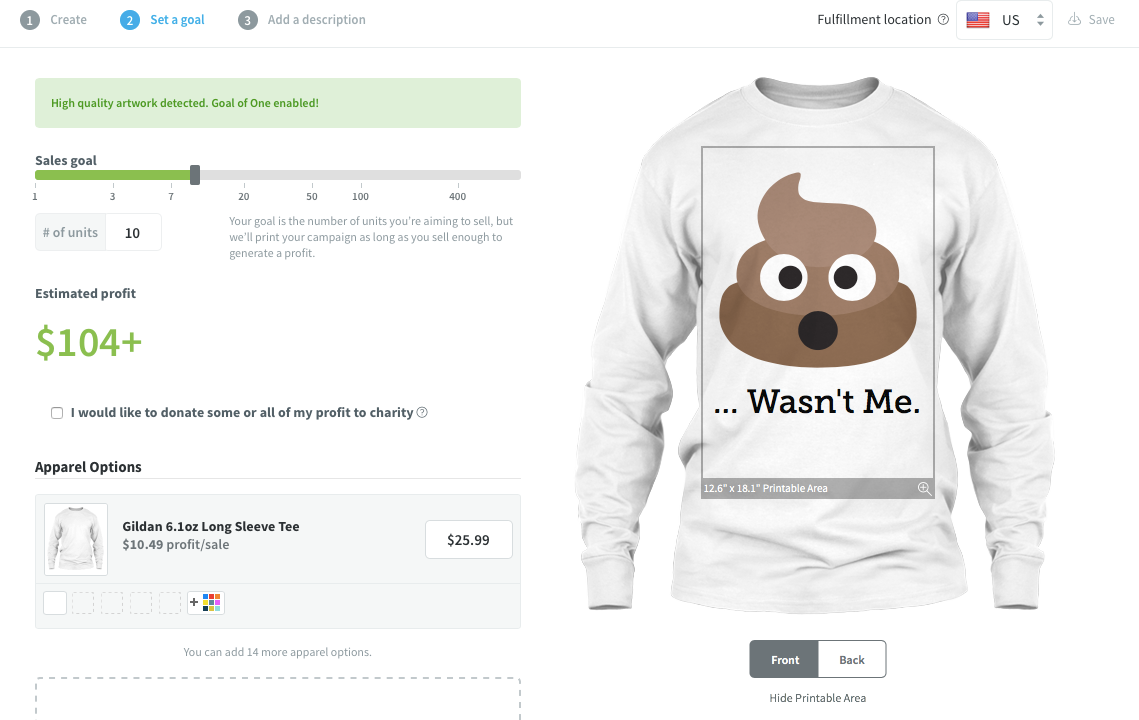 #6: Start your campaign
Give your campaign a title, and description.
This will populate a link that will be used to promote your new tee's.

#7: Promote your shirt
Now you should see your freshly designed shirts LIVE and for sale!
That's right, anyone in the world can buy this, and you will make a profit if you reach your target quantity.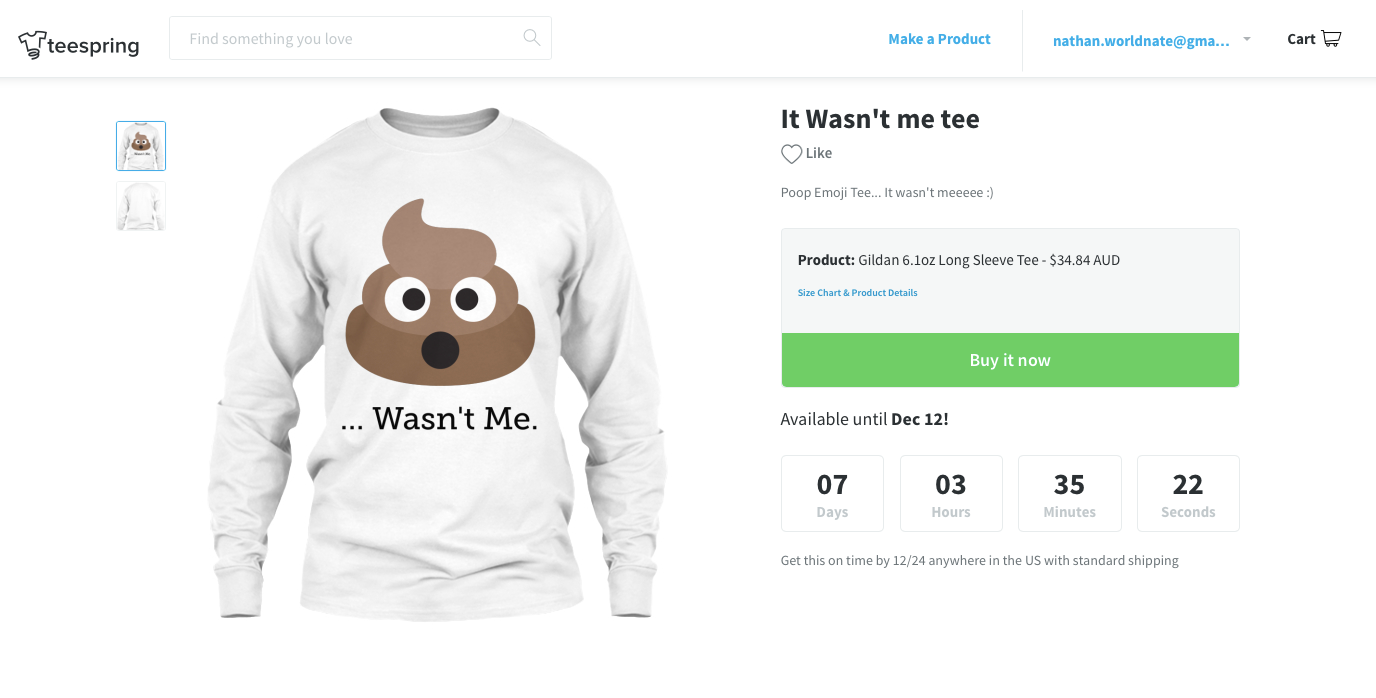 All you need to do is share this page and they can buy your shirt directly.
See, here is mine: https://teespring.com/wasnt-me-tee.
*Note: It may not be active any longer as this was just an example for you.
Promoting your shirt is where many become stuck.
It can be a little frustrating in the beginning but here are a few ideas as to how you can
promote your t-shirt online:
Facebook, Twitter, Instagram: Share on your new designs on your profile to family and friends. They might just be the biggest supporters of your new designs and wear your "poo" shirts with pride!
Pinterest: It's time to get serious.. You could make a line of designs to do with a specific market or topic and create a board with all of your designs for people to browse and buy.
Fan Page on Facebook: Start an official store! Upload all of your latest designs to your fan page as you make them, start building up a fanbase who like your style and encourage them to share with friends.
Blog/E-Commerce store: Start a blog and list all of the tees you have for sale. Link your blog with many social media sites and you will have an abundance of avenues where buyers can purchase your shirts through.
You see, that didn't take long, did it! I have met people who are doing really well selling shirts through TeeSpring.
One guy (can't mention names) makes shirts based on different niches. He then promotes his
shirts on Facebook to people who are interested in that niche… It's a simple strategy, but it works for him!
P.S: Remember to check out the Training Centre that Tee Spring has on their site. If you're gonna give it a go, you may as well do it the right way!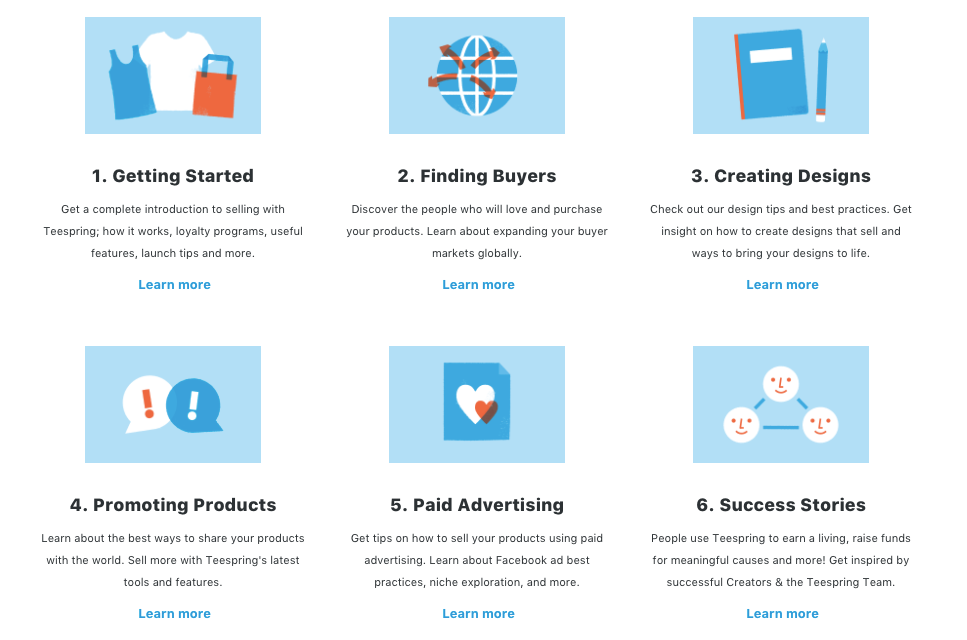 And there you have a way to start an online business in just a day!